Marshall-Brennan Constitutional Literacy Project
Empowering High School Students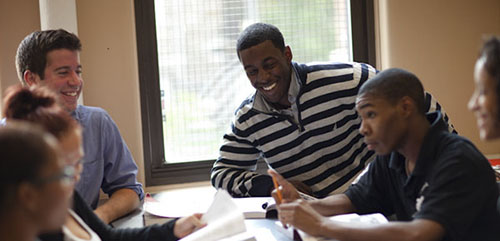 Marshall-Brennan Fellows work with teachers and students from the Jeremiah E. Burke High School.
The Marshall-Brennan Constitutional Literacy Project at Suffolk Law was founded in 2010 by Professors Michael Avery and Kim McLaurin to empower high school students to be responsible citizens and participants in the democratic process.
Each year, law students accepted into the year-long program - known as Marshall-Brennan Fellows - study constitutional law and simultaneously teach it to Boston-area high school students in urban minority population areas.
Marshall-Brennan Fellows also enroll in a weekly seminar course, Constitutional Justice in School, to be taught by Professors Kim McLaurin, Robert Smith, and John Infranca. The seminar course focuses on constitutional law for high school students, including free speech for students, separation of church and school, search and seizure in school, equal protection against race discrimination, and due process in school. The weekly seminar also affords Fellows the opportunity to explore pedagogical problems in teaching constitutional law. Coinciding with their coursework, Fellows teach in pairs at local high schools throughout the year.
About the Marshall-Brennan Project
The Project, originally founded in 1999 by Professor Jamin Raskin at American University's Washington College of Law, is named in honor of the late Justices Thurgood Marshall and William J. Brennan, Jr. From his leadership of the fight for school desegregation through his tenure on the Supreme Court, Justice Marshall never stopped believing that access to education was the great hope for social progress. Justice Brennan spoke often of the need to bring the Bill of Rights to life for generations of students, noting that constitutional guarantees are "tissue-paper bastions if they fail to transcend the printed page." The Project keeps alive the passionate vision of two of the 20th Century's great Supreme Court justices.
Suffolk Law's program is a chapter of a national program based at American University Washington College of Law, which aims to "uplift constitutional understanding, advance democratic values, and promote young people's engagement in politics and government."
Marshall-Brennan Moot Court Competitions
As part of the teaching experience, Fellows also work with high school students to prepare for a regional moot court competition each year. The winners of the regional competition are invited to compete in the National Marshall-Brennan Moot Court Competition.
In additional to earning course credits in the weekly seminar, Fellows are eligible for credit under the Suffolk Law Pro Bono Program for the teaching component of the Project.
Applicant Eligibility
All Suffolk Law students in good academic standing who are not in their final year are eligible to apply. Due to time constraints, Fellows may not participate in any clinical program while enrolled in the Project. Constitutional Law is a co-requisite.
Applicant Process
To apply, please submit the following materials in the form below by March 27th 2023 at 5pm:
Resume;
Unofficial law school transcript;
Personal statement (upload as "cover letter") - the personal statement should be 500-700 words in length and should describe your interest in participating in the Project and what you would like to achieve through this unique class experience and through teaching at a local high school; and
Information document (upload as "other document") - please submit a separate document listing: Whether you have completed any of the following classes and, if yes, during which semester(s): Constitutional Law, Children and the Law, and Criminal Procedure; Any language skills; Any teaching experience, specifying the length of time, grade, topic, school, and names of references at the law school who can speak to your qualifications to be a Marshall-Brennan Fellow.
Application Deadline
April 3rd 2023 at 5:00 p.m.
Information Session
In Person Application Session
March 22, 2023
3-4pm
Sargent Hall, Classroom 265
Marshall Brennan Information Session Recording from March 21, 2022