About Us - Center for Community Engagement
Suffolk's Center for Community Engagement (previously S.O.U.L.S.) was founded in 1997 to engage the Suffolk University community in meaningful service work. Our mission is to cultivate and inspire a community that is committed to social justice.
The key elements needed to accomplish this mission are:
service
education
reflection
advocacy
We develop partnerships and programs that:
integrate practical experience in the community with classroom learning
help students gain a deeper, hands-on understanding of social justice issues
support students' advocacy for social change
help students establish an ethic of service, achieve personal growth, and develop their leadership skills
express and promote the value and acceptance of diversity in our communities
Meet Our Staff
Joseph M. Piemonte, Special Projects Graduate Fellow
Jenn Plourde, Community Service and Alternative Spring Break Graduate Fellow
Mateusz Madry, Service-Learning and Community Partnerships Graduate Fellow
Benjamin Flanders, Campus Leadership and Engagement Service Scholar
Kira DeFranza, Communications and Social Media Service Scholar
Noemi Alvira, Community Partnerships Service Scholar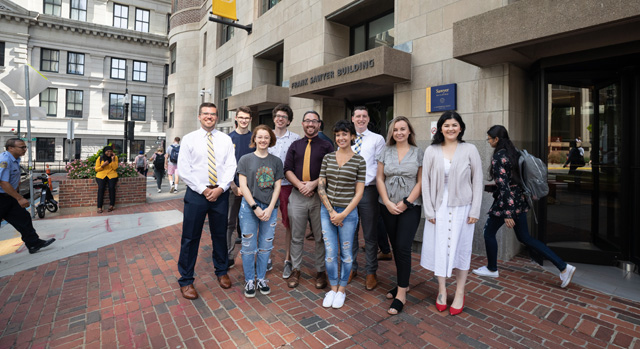 Honors and Awards
Suffolk University is recognized as a leader among institutions of higher education for engaging its students, faculty and staff in meaningful community service opportunities.
The Carnegie Foundation Community Engagement Classification
The Carnegie Foundation selected Suffolk University for its 2010 Community Engagement Classification. This honor recognizes higher education institutions that partner with their larger community for the mutually beneficial exchange of knowledge and resources. These partnerships address community-identified needs, enhance community well-being, and enrich scholarship.
The President's Higher Education Community Service Honor Roll
The University has been named to the 2013 President's Higher Education Community Service Honor Roll for the fourth straight year. This honor recognizes institutions of higher education that encourage and support community service. Selection is based on a series of factors including scope and innovation of service projects, and the extent of service learning course offerings.
Follow Us
We are on Facebook and Twitter, or see us on Instagram below.