National Trial Competition 2022
Sponsored by THE AMERICAN COLLEGE OF TRIAL LAWYERS
In conjunction with THE TEXAS YOUNG LAWYERS ASSOCIATION
Hosted by SUFFOLK UNIVERSITY LAW SCHOOL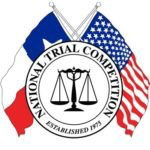 The National Trial Competition is the oldest and most widely respected law student trial competition in the country. Nationally, it attracts teams from more than 140 law schools in 15 different regions and involves more than 1,000 law students each year. The National Trial Competition was established in 1975 to encourage and strengthen students' advocacy skills through quality competition and valuable interaction with members of the bench and bar. Your help provides a meaningful contribution to the development of future trial lawyers.
I am volunteering to serve as a judge in the National Trial Competition New England Regionals to be held February 10-13, 2022.
I understand that the trials will be in a virtual meeting format (Zoom) and that I will need to log into them with stable Wi-Fi for approximately three hours for each trial.
If you are able to judge more than one round, we would greatly appreciate it. We have 22 teams of students from 12 law schools entered, and each gets 3 trials, with some getting 4 and 5 trials. That's a total of 39 trials, with three judges each, for a total of 117 judge slots. If you can fill 4 of them, I will send you a personal thank you!
Required fields are marked with an asterisk (*)