Monday, March 8, 2021
12:00 p.m. – 1:00 p.m. (ET)
Virtual Panel
All Rise celebrates Suffolk Law's rich history of successful alumnae and their ongoing contributions to the legal field. In honor of International Women's Day, join us for the second part of our alumnae panel discussion titled Grit & Grace: Leadership, Inclusivity and Change. Our discussion will feature distinguished Suffolk Law alumnae – trailblazers and leaders – who will share lessons in leadership that support inclusion, advance racial and gender equity, and leverage diverse thinking.
This program is an extension of our November event ("Rise Up, Speak Up, Lift Every Voice") and is the official launch event of Suffolk Law's Diversity Week.
Panelists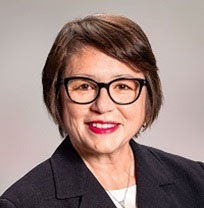 Hon. Marcine S. Anderson JD'84
District Court Judge, King County, Seattle, WA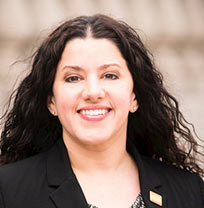 Jessica A. Massey JD'03
Assistant US Attorney, United States Department of Justice
Chief Compliance Officer, Hispanic National Bar Association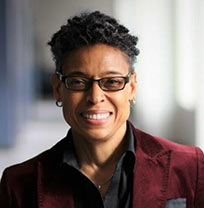 Tara Spann JD'95
Chief People and Strategy Officer, MENTOR
Moderator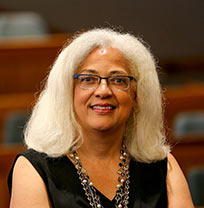 Renée M. Landers
Professor of Law and Director of Health Law Concentration and
Faculty Director, Masters of Science in Law Life Sciences Program
Suffolk University Law School
For questions about this event, please contact Alison E. McManus, Associate Director of Alumni Relations & Annual Giving, by email or at 617-305-6354.
Event Advisory Committee
Event Chair:
Honorable Joan N. Feeney (Ret.) JD'78
Members:
Tamela E. Bailey JD'04
Professor Emerita Karen M. Blum JD'74
Sarah Camougis JD'92
Jessica Duhamel JD'06
Joy Backer Kete JD'15
Deborah Marson JD'78
Susan Myers JD'91
Honorable Amy Nechtem JD'85
Carol A. Starkey JD'88
Regina C. Sullivan JD'88
Linda J. Wondrack JD'95
Thank You to Our Sponsors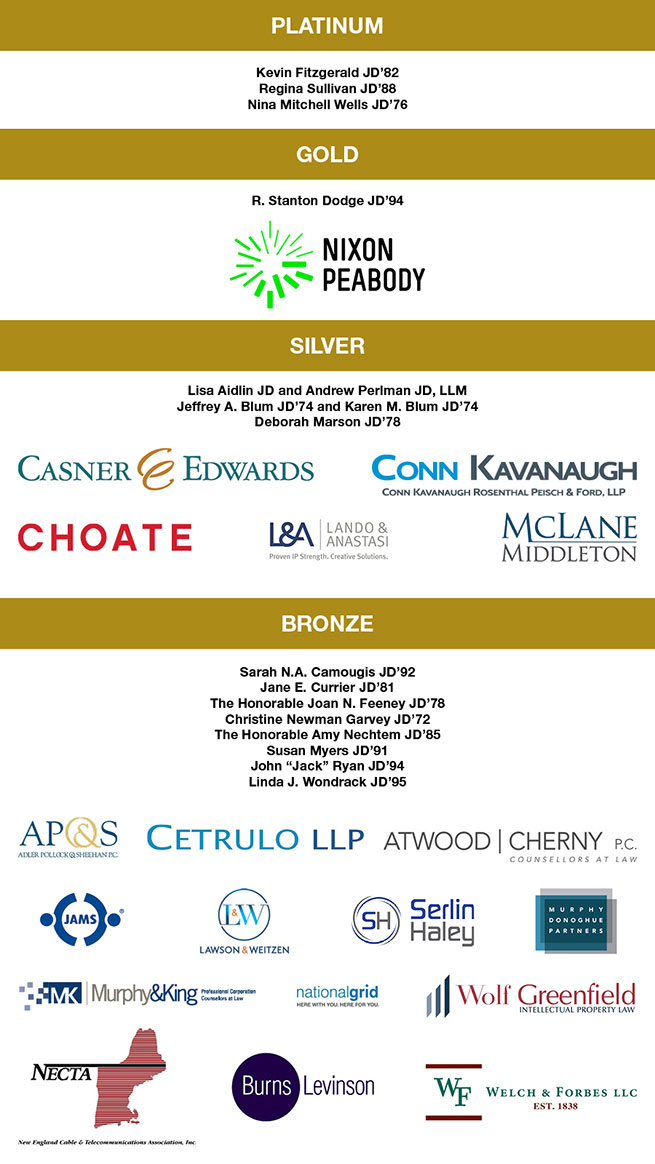 Become a Sponsor Today
Your sponsorship of All Rise will support two of the Law School's critical funds - the Catherine T. Judge Scholarship and its Law Student Emergency Assistance Fund – both provide crucial financial aid to our law students.
The Professor Catherine T. Judge Scholarship honors Suffolk Law's first full-time female professor while helping students overcome financial barriers to access a practice-ready legal education. Suffolk Law's Student Emergency Assistance Fund helps law students who are facing unemployment, housing challenges, and additional economic insecurity as a result of COVID-19 by providing small emergency grants.
To learn more about becoming a sponsor, please contact Nancy Galindo-Rodriguez, Director of Corporate & Foundation Relations by email or at 617-573-8454.