Faculty & Staff
What Suffolk students learn in the classroom is invaluable. The Center for Career Equity, Development & Success helps put students' academic experiences into practice.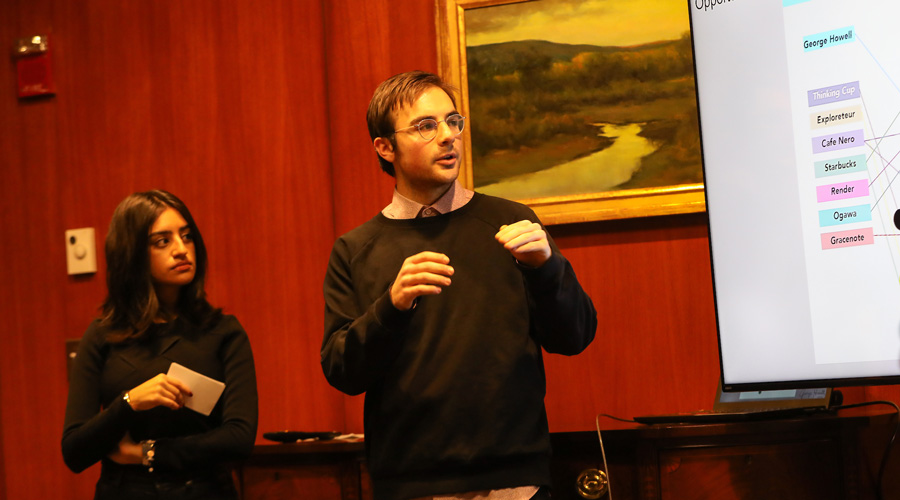 Experiential learning powers our students' education. Our team works closely with faculty and staff in every academic department ensuring that students have access to even more opportunities to connect their curriculum to their future careers.

We work to bring representatives from influential organizations to campus as guest speakers, case study clients, and mentors. These industry professionals participate alongside faculty and staff in our Career Communities, industry-themed groups that help students explore all that they can do with their Suffolk degrees. And year after year, these top employers are eager to extend internship and job offers to our career-ready students.

Please get in touch to see how we can help your students put their knowledge to work.
Faculty & Staff Resources
Curriculum development expertise
We can assist you in developing course content for any discipline that relates to career exploration and strategy. This includes modules, lesson plans, assignments, discussion prompts, and even co-facilitating or guest speaking on a career related topic for your course.
Assistance working with employers and alumni
If you have a job posting that you would like to promote to students, and if you have an employer who is interested in partnering with the University for jobs, internships, and other opportunities, please forward the information to [email protected].
Assistance with developing an internship program
If you have an interest in developing an internship program, either on campus or with employer partners through your academic department, please contact Stephen Meno.
RAMP Alumni Mentoring Program
Information about the RAMP Alumni Mentoring program can be found here: (link). If you have a referral for an alumni mentor, or if you would like help promoting the RAMP Alumni Mentoring program to your students, please contact Joanna Lazarek.
Career-related events
If you have an interest hosting a career-related event, please contact Sarah Burrows.
Class and Group Presentations
The Career Center can speak to your class or group of students on many topics, including:
Career Center overview
NACE Competencies
Getting the most out of LinkedIn
Networking and Informational Interviewing
Interview strategies
Mock interviews
Internship preparation
Job search
Negotiating a job offer
Career exploration
What can I do with this major?
Applying to graduate school
Focus2
Focus2 is an online career and education planning system based on established career and counseling principles. It provides a complete picture of student interests, values, personality, skills, and leisure activities using self-assessment questionnaires, interest inventories, and personality testing.
(Faculty can provide this info to their students) For student access please see the following instructions: Register for a student account on Focus2. New users simply click on the REGISTER button to be brought to the self-registration page. First students will need to enter the access code, RAMS, and then they can create their own unique username and password. Once they submit the form, a Focus 2 account will be activated for them and they will be brought directly into the system. Each time they return to use Focus 2, they simply enter their username and password on the login page.
For faculty and staff administrative access, please reach out to Hayley Conard. This will allow you to create a group of students in your course who have registered for the assessment. You will be able to see their results, and you can also take the assessment yourself through a "student view" feature.
Career Leader
Career leader is a strategic career assessment tool for Business students that offers actionable guidance through expert assessments, and key insights into business-related careers. Combining interests with skills and motivations, Career Leader offers a unique job search feature that matches students to specific business-related careers while also providing guidance on how to navigate organizational cultures to find the best fit.
For faculty and staff administrative access, please reach out to Hayley Conard.
Handshake
Handshake is an all-in-one career management tool where students can search and apply for jobs and internships, register for career fairs and events, and connect with potential employers. At the Career Center, Handshake serves as the central hub for connecting students, alumni, and employer partners through an extensive network of jobs and career resources.
If you are a faculty member interested in joining Handshake, please contact Hayley Conard.
Quinncia
Quinncia is an AI-based career development platform designed to enhance student engagement by embedding career readiness in both the classroom and student life. This is achieved through Quinncia's two main threads, which prepares students to beat ATS systems when applying for jobs and get them ready for interviews with a sophisticated mock AI interview tool.
If you are a faculty member interested in integrating Quinncia into your class, please reach out to the Operations Team
Goin Global
GoinGlobal is an amazing resource for students interested in working both in the U.S., and abroad. An extensive network provides key insights through comprehensive job guides for nearly 50 U.S. cities, and over 120 locations worldwide. Resources include job opportunities, industry trends, professional associations/networking groups, info on visas and work permits, resume/cover letter guides, and culture/interview advice for both social and professional settings.
Log-in to Handshake and follow the GoinGlobal link on this resource page. If you do not have a Faculty Handshake Account, please reach out to Hayley Conard.
Vault
Vault is a comprehensive career resource designed to provide students and job seekers with job and internship opportunities, career advice, company rankings, diversity profiles, salary info, occupational profiles, and more.
Log-in to Vault using your Suffolk University single sign on credentials