Career Ambassadors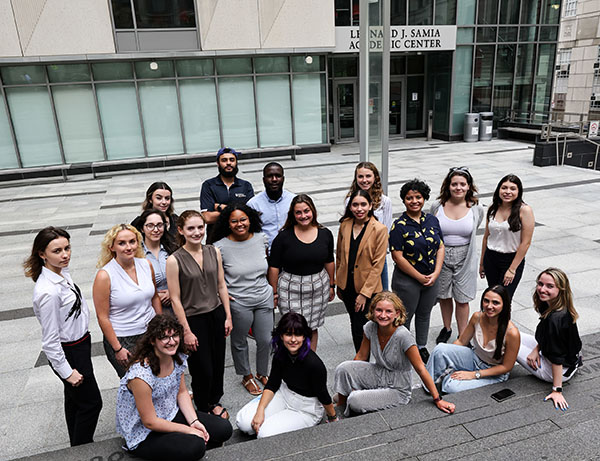 Career Ambassadors are undergraduate peer educators, providing support and one-on-one guidance about career readiness and professional development. They are trained to understanding the key competencies employers are looking for, and to help students incorporate those skill when articulating their professional value via resumes and cover letters. Career Ambassadors connect students with programs and events happening in the Career Center, specifically within the Career Communities, and have a strong knowledge of professional development opportunities within their own academic departments.
Become a Career Ambassador!
The Career Center is hiring student Career Ambassadors to join us for the 2022-2023 academic year. As the Center grows and expands, we are looking for students who demonstrate and want to continue to learn best practices in professional development and sharing that knowledge with their peers and the Suffolk community! This is a great opportunity for students to gain great insight, knowledge, and opportunities that will help them reach their own professional goals.
Applications are due no later than March 25th at 10:00pm. All questions can be emailed to Kerrie Aborn.
To apply, sign into Handshake
Drop-In Appointments
Drop in to meet with a Career Ambassador for help writing resumes and/or cover letters or to have a conversation about career options.
Daytime Drop-Ins
Mondays-Fridays: 12:30 - 1:45pm, Career Center, 73 Tremont, 9th Fl
Evening Drop-Ins
Mondays-Wednesdays: 5:00 - 7:00pm, 73 Tremont, Sawyer Library
CAs can be requested for classroom or student organization presentations about:
Resume & Cover Letter Writing
Basics of a Student LinkedIn Profile
Maximizing the Potential of Handshake and Career Center Resources
Professional Development Best Practices In their own major or intended industry.
To request a CA, contact Erika Graves.
Our Spring 2022 Career Ambassadors
Alejandra Leiva, 2022, Psychology
Alexandra Edinak, 2022, Accounting
Ryan Inchaustegui, 2022, Marketing
Sydney Carter, 2022, Law
Yasi Diaz Rivera, 2022, Psychology
Angela El Jazzar, 2023, Business Economics
Dhanai Gjini, 2023, Biology
Isabel Baynum, 2022, Political Science
Sarah Wach, 2023, Law
Talia Ferraro, 2023, Advertising & Public Relations
Anna Plumb, 2024, Entrepreneurship
Caitlyn Green, 2024, Media & Film
Cristina Castillo, 2024, Marketing
Godfred Afeghera, 2023, Global Business, Entrepreneurship
Grace Laverriere, 2023, Broadcast Journalism
Kathryn Winans, 2023, Political Science
Luz Pimentel, 2023, Global Business & Marketing
Madelyn Birtwell, 2023, Biology
Oceane Bayala, 2024, Business Economics