Summer Career Development Stipend
Discover and explore your career path by engaging in summer experiences such as internships, research and volunteering.
Suffolk University is proud to offer the Summer Career Development Stipend available to full-time, first year undergraduate students and select transfer students enrolling in fall 2022. This $3,500 stipend will support undergraduate students pursuing unpaid internships, research with faculty or other volunteer service opportunities during summer 2023 or summer 2024.
Applications for the 2023 Summer Career Development Stipend will open closer to spring 2023.
Continue reading for additional information regarding eligibility and application requirements.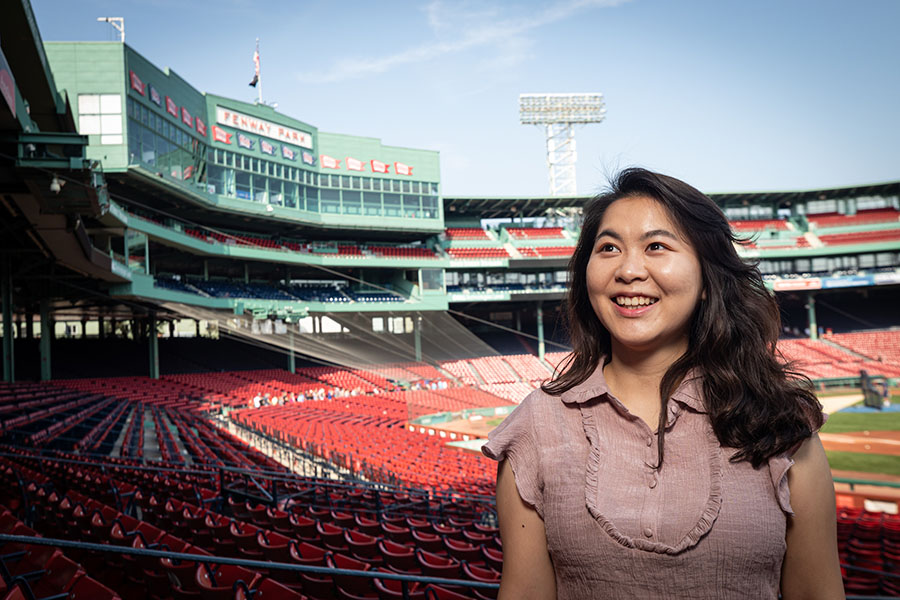 Eligibility Requirements
The stipend will be available to all full-time, first year undergraduate students and select transfer students enrolling in fall 2022. Students must apply to receive the stipend and meet the following eligibility requirements:
Be registered for classes for the following fall semester
Be in good academic standing
Have a minimum GPA of 2.0 at time of application
Complete an application with all required elements

Transfer students must be entering with less than 40 credits, and will be notified at the time of admission of their eligibility
Following a consultation with the Summer Career Development Stipend Committee and an approved application, students may use the stipend to support a variety of experiential learning opportunities including:
Unpaid internships
Summer research with Suffolk University faculty
Volunteer service opportunities
At least 135 hours must be worked in order to receive the stipend. This requirement is typically fulfilled within 4 to 12 weeks depending on your work schedule.
International Student Eligibility
International undergraduate students are eligible to receive the stipend. Please note that Pathway students are not eligible until after they progress out of the Pathway program.
International students who receive internship funding for a secured internship in the U.S. are required to meet with an International Advisor at the International Student Services Office (ISSO), to confirm your eligibility for Curricular Practical Training (CPT). If ISSO confirms you are eligible for CPT, you are required to complete necessary paperwork and adhere to all requirements pertaining to your visa status.
Application Requirements
Students must apply to receive the summer career development stipend. Students have the option of applying for funding for either the summer after their first or second year. As part of the application, students must include:
Student information (name, student ID, start term, major)
Supervisor and organizational information (name, email, website, phone number)
Whether student will be enrolled in classes for the summer
Type of activity they are doing, work schedule, offer letter
Applicant articulates expected learning outcomes in a paragraph
Applicant explains how this experience furthers their career exploration/goals
An Organization Verification Form submitted by their site supervisor
A link to the 2023 stipend application will be made available closer to spring 2023. Applications for the stipend will be due later that semester with final decisions being made around the fall course registration deadline.
This page will be updated with a link for the 2023 stipend application. Please email us if you have any questions in the interim.
Award Amount and Tax Information
The Summer Career Development Stipend will award $3,500 to undergraduate students whose applications are approved. Please note that this is taxable income if a student receives a direct disbursement instead of a scholarship toward summer tuition costs.
The stipend is subject to applicable federal, state, and local income taxes and FICA. Taxes will not be withheld, but they will be reported on a 1099 form, which students will receive for the applicable tax year.
Additional Information
Please contact the Summer Career Development Stipend Committee for any additional questions or inquiries.