Diane D'Angelo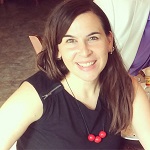 Assistant Director for Public Services
Phone: 617-573-8608
[email protected]
Before coming to Suffolk, Diane was a law firm research librarian at Ober, Kaler, Grimes and Shriver in Washington, D.C.; Publications Coordinator for the Journal of Drug Issues at Florida State University's Criminology and Criminal Justice Department and Senior Government Documents Assistant at Brandeis University.
Degrees
B.S., Political Science/History, Bridgewater State College
M.A., History, University of Maine
M.S., Information Studies, Florida State University
Publications
Chapter 2, section on Global Internet Research Methods, in Global Internet Law (Hornbook Series), Michael Rustad (West Academic Publishing 2014).
An Empirical Study of Predispute Mandatory Arbitration Clauses in Social Media Terms of Service Agreements, 34 U. ARK. LITTLE ROCK L. REV. 643 (2012), with Michael Rustad, Richard Buckingham, and Katherine Durlacher.
The Path of Internet Law: An Annotated Guide to Legal Landmarks, 10 DUKE LAW & TECH. REV. 1 (2011), with Michael Rustad.
Staying e-current, Massachusetts Lawyers Weekly, Nov. 23, 2009
Cuban Americans & American Sport, chapter in Encyclopedia of Ethnicity & Sports in the United States, ed. George Kirsch, Greenwood Press, 2000.
Specialty Areas
Administrative law
Environmental law
Interdisciplinary research
Professional Activities
Co-Chair, Communications Committee, Law Librarians of New England (LLNE) 2017 – present
President, Law Librarians of New England, July 2015 – July 2016
Vice President/President Elect, Law Librarians of New England, July 2014 – July 2015
Education Director, Law Librarians of New England, 2009 – 2014
Chapter News Editor, American Association of Law Libraries, 2004 – 2011