Anne-Marie Beliveau
Anne-Marie Beliveau JD'18 describes her summer in Strasbourg, France at the European Court of Human Rights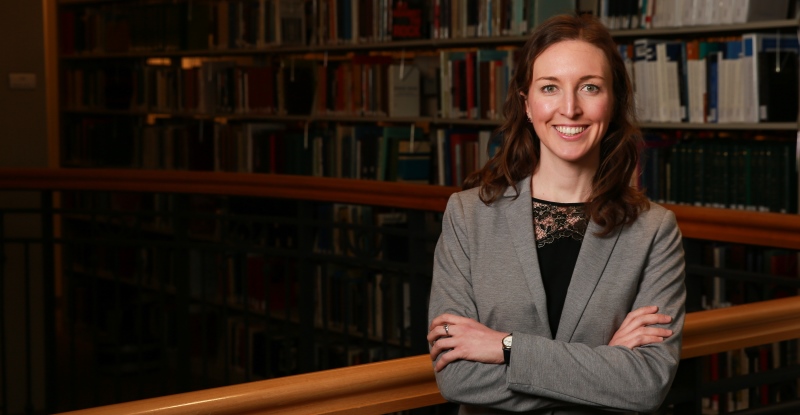 My Internship at the European Court of Human Rights in France
By Anne-Marie Beliveau
"Where are you from?"
Sitting nervously around a table with fellow interns, anxiously awaiting to start our first day at the European Court of Human Rights in Strasbourg, France, I started chatting with an intern from the Czech Republic. She just so happened to have lived outside of Ottawa, the city I am from, during an exchange in high school. We reminisced about the Ottawa neighborhood mall, and I instantly felt more at home in my new environment.
This experience on the first morning at Court set the tone for the rest of the summer. Everyone came from a different background, but we quickly realized that we all had much more in common than we originally thought.
The European Court of Human Rights is the human rights court for the 47 member states of the Council of Europe. During my internship, I worked with the Swiss division of the Court on a variety of human rights cases. These cases had gone to the highest court in Switzerland before being brought to the European Court of Human Rights. I assisted the senior attorney with legal research and writing in French and English. Primarily, my work involved the right to private and family life, freedom of expression, and freedom of religion.
Working at the European Court of Human Rights after my 1L year exceeded every dream or expectation I had for my first legal internship. Working for an international human rights organization is my career end-goal. I was fortunate enough to start my legal career doing what I love the most.
Toward the end of my internship, I met two other law students who were interning at the Council of Europe, across the street from the Court. I could not have been more surprised that they too were studying in Boston-area law schools. I should not have been surprised however, because this was such a typical and incredible part of working at the Court. In a time where so much focus is on what divides us, my summer internship was a refreshing reminder of the importance of focusing on what unites us, no matter how big or small.
Anne-Marie Beliveau JD'18, who is from Ontario, Canada, interned at the European Court of Human Rights in Strasbourg, France, in the summer of 2016. She is a staff member of the Suffolk University Law Review, a member of the Jessup International Law Moot Court Team, and an executive board member of the Women's Law Association.