Anne Stevenson
Anne Stevenson spent a summer in Ireland through Suffolk's exchange program with the National University of Ireland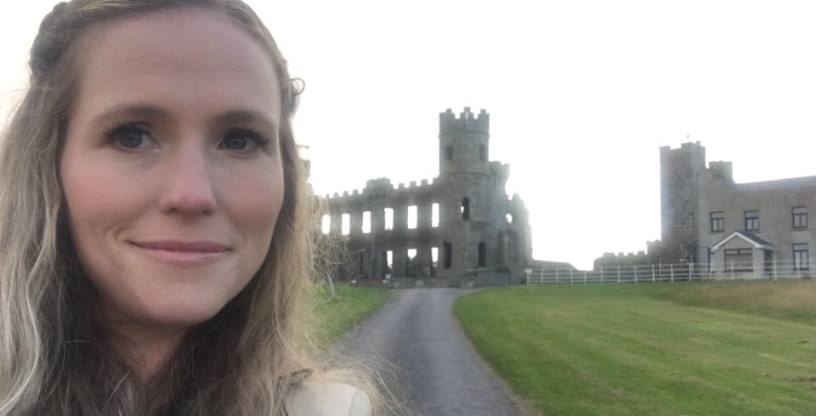 My public internship in Ireland
By Anne Stevenson
Last summer, Suffolk University School of Law's externship exchange program with the National University of Ireland's School of Law-Galway (Galway Law) provided me with a highly individualized educational experience, as well as hands on work experience that future employers would find valuable.
During the last week of May, I attended a week of intensive law courses at Galway Law in a class that was a mix of American and Irish students. Irish professors taught us the basic principles of Irish history and the Irish legal system with the goal of preparing the class for work in public interest internships throughout Ireland.
For the months of June and July, I was placed in a nine-week internship at the Child Care Law Reporting Project in Dublin. The Reporting Project was founded by a former editor of the Irish Times and a retired Irish Supreme Court justice. The purpose is to educate the public about Irish child welfare court proceedings (which are closed to the public).
The majority of my time was spent observing and reporting on child welfare proceedings in courts throughout Ireland. Some of this work was then published by the Reporting Project, which aims to provide policy makers and interested professionals with objective data which can be used in their efforts to improve systemic outcomes for children.
I had workspace in the Reporting Project's offices on St. Stephen's Green in Dublin. Some of my responsibilities included legal research, case summaries, court case observations, and reporting on cases. In addition, I attended various meetings, events and conferences with other legal professionals. For example, in June I attended a two-day professional conference for guardian ad litems in Sligo (which is three hours north of Dublin).
During my free time, I successfully sought out opportunities to network with other Irish legal professionals and observe cases in other types of Irish courts. In July, Judge James O'Connor allowed me the privilege of observing juvenile delinquency cases in Dublin's Irish Child Criminal Courts. In addition, I also observed criminal cases in Dublin's Four Courts, as well as a terror case in Ireland's Special Criminal Courts (which exists to exclusively hear terror and organized crime cases.)
From the time we arrived in Ireland, we were encouraged to explore the country. It helped that Suffolk Law alumnus Larry Donnelly is a Galway Law Lecturer and the Director of Clinical Legal Education. Donnelly gave us tours of the Dublin courts and the Honorable Society of King's Inns (where Irish barristers are educated), and to watch a hurling match (hurling is a traditional Irish sport).
One of my favorite things about this exchange was that my schedule was flexible, and it was very easy to get around the country and make Irish friends. Almost every weekend, I rented a car and explored a remote corner of Ireland. In particular, I enjoyed hiking through the Giant's Causeway in Antrim and Queen Maeve's Tomb in Sligo. Clare's Cliffs of Moher were gorgeous. On the Dingle Peninsula, I hiked on the Slea Way and listened to proper Irish music in the pubs. Waterford's Copper Coast was amazing, and I enjoyed my time in Helvic, a fishing village on the Ring Peninsula where only Gaelic was spoken. In Wicklow, I hiked through the dark Wicklow woods to St. Kevin's pool and the ancient Monastic settlement at Glendalough. Most memorably, I hiked beautiful famine roads in Tipparary, observing untouched worship sites that were thousands of years old.
My summer in Ireland provided me with more than just an invaluable opportunity to compare and contrast how the American and Irish courts solve problems. Wherever I went in Ireland, the people went out of their way to make me feel at home. I would recommend the Ireland exchange to any student seeking a hands-on legal education abroad learning more about parliamentary systems, EU laws and treaties, and a legal culture that is community preservation oriented.
Anne Stevenson JD'17 was a summer intern in Galway, Ireland, during the summer of 2016. She also was a judicial clerk intern in Suffolk County Juvenile Court in Boston.